2015 Return to Koh Tang Trip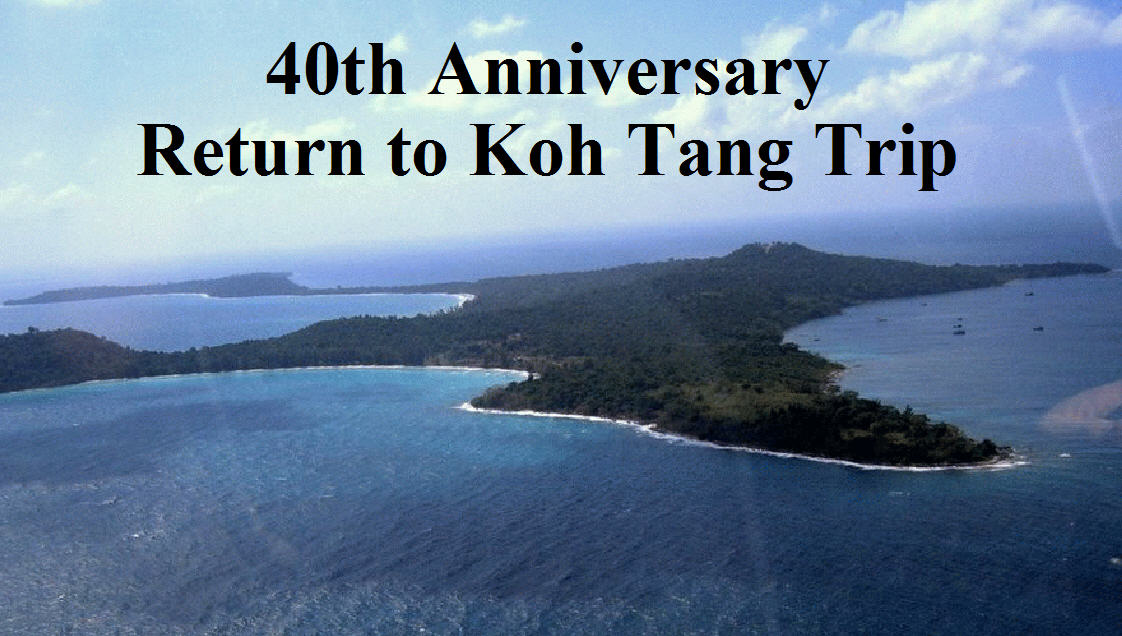 To plan events, Clark needs to have a head count of who might be interested in going ASAP
Note: This is not a official reunion and you will be responsible for all your own cost involved with this trip. A rough estimate on trip cost is $4500 per person including air fare from LAX.
A note from Clark:
I have been asked already if one has to be there on the 10th and leave on the 18th. The 40th anniversary memorial on KohTang is the primary purpose for the trip. Veterans do not have to be there for the whole program planned. If all they want to do is get out to KohTang , they can arrive on May 13th and depart when we return to PNH on or about May 17th. Travel to the coast will be on May 14th and return to PNH on the 15th or 16th..Not in stone yet. Bottom line is they do not have to be there from May 10-18, 2015. But they will miss a lot of fun. Still need to know from them when they plan to be there for reservations and travel purposes.
Hotel

Everyone will be responsible for their own hotel costs. A ballpark figure right now is about $400.00 for eight nights or about $50.00 per night, per person. Of course, if you share a room the costs would be less. Transportation costs to the coast and to and from KohTang, at the present time will be provided for us. John Muller, who is organizing our trip, and some others, are working on getting sponsors for us. This event will be a great time for all those that go.
Activities not yet on Itinerary
Guests at US Embassy Marine house bar one night
BBQs and beer should be free. Post 11575 is working on sponsors
Working with the Cambodian Naval to arrange a vessel to carry our group to Koh Tang and return.
The US Ambassador will give a speech to honor the fallen, those left behind, and who participated during a morning flag raising ceremony next to the Bronze Mayaguez Memorial on the Embassy grounds.
Post 11575 will have a former Vietnam War era riverboat for short sight seeing trips along the Bassac and Mekong River.

This will be FOC.
Proposed Itinerary for Mayaguez 40th Anniversary in Cambodia
(this will change)
Day
Date
Item
Saturday
May 9
Depart LAX
Sunday
May 10
Arrive at PNH... meet and greet at location TBA
Monday
May 11
TBA
Tuesday
May 12
PNH Tour "Killing Fields" where thousands of Cambodians were
executed by Pol Pot/Khmer Rouge government
Wednesday
May 13
PNH TBA....waiting for input
Thursday
May 14
Travel to SHV travel to be arranged...proposed tour of templer
where 3 MIAs reportedly held
Friday
May 15
Travel to KohTang proposed...travel possibly to be aboard
Cambodian Naval ship....Overnight at KohRong
Sat
May 16
Return to PNH travel to be arranged
Sunday
May 17
Free time...shopping at Russian Market and other shopping areas
Monday
May 18
Depart Cambodia
Airline Information
A round trip flight for one person is about $1200.00 to $1600.00, depending on where your flight begins.
There are more than one flight that after connections, arrives at the same time at the end of the flight.
This is Clark Hales flight: He suggest to use Priceline.com

Note: This flight leaves at 1:05AM... You need to fly into LAX on the 8th to make this flight.

Leave May 9, 2015

From LAX 0105am China Airline 7 13hr, 55min flight Boeing 777
arrive Taipai 6:00am

May 10

Depart Taipai 7:30am China Airline 861 3hr20min flight Boeing 737
arrive PNH 9:50am


Depart May 18, 2015

From PNH 1050am China Airline 862 3Hr30min flight Boeing 737
arrive Taipai 3:20pm

Depart Taipai 5:10pm China Airline 6 12hr 0min flight Boeing 777
arrive LAX 2:10pm
~~~~~~~~~~~~~~~~~~~~~~~~~~


Other information
I have been asked about shots that might be required for this event in Cambodia. I asked Monte Marchent, State Department, Retired, and he gave me the below response. That should answer any questions of us about shots.
On Sun, Jul 13, 2014 at 5:19 PM, Monte Marchant <monte485@hotmail.com> wrote:
Clark,
The only mandatory shot is yellow fever IF you are coming from a country that has yellow fever, so that would be a no. Shots that are recommended by CDC are:
All travelers
You should be up to date on routine vaccinations while traveling to any destination. Some vaccines may also be required for travel.
Routine vaccines
Make sure you are up-to-date on routine vaccines before every trip. These vaccines include measles-mumps-rubella (MMR) vaccine, diphtheria-tetanus-pertussis vaccine, varicella (chickenpox) vaccine, polio vaccine, and your yearly flu shot.
Most travelers
Get travel vaccines and medicines because there is a risk of these diseases in the country you are visiting.
Hepatitis A
CDC recommends this vaccine because you can get hepatitis A through contaminated food or water in Cambodia, regardless of where you are eating or staying.
Typhoid
You can get typhoid through contaminated food or water in Cambodia. CDC recommends this vaccine for most travelers, especially if you are staying with friends or relatives, visiting smaller cities or rural areas, or if you are an adventurous eater.
All the best
Monte
Confirmed Going:
Maybe
Clark Hale and Teresa,
Gale Rogers and Debbie,
Scott Standfast and Phyllis,
Fred Morris,
Larry Barnett
Cary Turner (Joseph Hargrove Cousin & Author)
John Lucas
Matt Burke (Stars & Stripes Reporter)
Michael Barnes (Documentary Producer)
Arch Hall Jr
Don Raatz