H.N. Ronald J. Manning

Vietnam soldier's remains coming home


April 27, 2012

By MARK J. MILLER - Staff writer (mmiller@heraldstaronline.com) , The Herald-Star

TORONTO - Additional remains of a city son killed during the waning days of the Vietnam War will be coming home Saturday after remains were recently identified by Navy officials.

City native Ronald Manning was a 21-year-old Navy corpsman killed in 1975 during an attempt to rescue the crew of the SS Mayaguez, a merchant ship hijacked by Khmer Rouge naval forces in the Gulf of Thailand.

Manning's fate at the time was unknown, and he was officially listed as missing in action until remains were identified by the Navy in 2000. His remains were returned to the Gem City to a hero's welcome at the time and buried in the Toronto Union Cemetery. Ron Manning was the son of Donna and James Manning Sr. of Toronto.
James "Bo" Manning Jr., said advancements in DNA technology enabled the Navy to positively identify more of Ron Manning's remains, and they will be returned to Toronto Saturday with ceremonies honoring him set for Sunday.

"All the remains went to Hawaii to be identified. The DNA (technology) has gotten better over the years," said James Manning Jr., adding the remains will be flown to the Pittsburgh Airport Saturday morning. "A Navy corpsman will be with the remains the entire time. The Navy will provide transportation to the airport as well."

The City Police and Mayor John Geddis will escort the family and remains into the city as well, according to Geddis.

"The family will call us as they (approach Toronto), and we will escort them into the city," Geddis said.

A memorial gathering open to the public will be held from noon to 2 p.m. Sunday at J.E. Foster's Funeral Home, 701 Findley St. They then will proceed to Toronto Union Cemetery for formal military services and burial performed by the Navy, said James Jr.
"A lot of this is going to be spontaneous," he added.

According to Task Force Omega's website, an advocacy organization that tracks American military personnel killed or missing in action, Ronald Manning was killed during the attempt to rescue the civilian crew of 39 captured by the Cambodians after so ordered by then-President Gerald Ford.

"President Ford ordered a carrier battle group, comprised of the aircraft carrier U.S.S. Coral Sea with guided missile destroyer escorts U.S.S. Harold E. Holt and the U.S.S. Henry B. Wilson into the Gulf of Thailand," the website's synopsis of the incident reads. "In addition, the 2nd Battalion, 9th Marines deployed to Utapao, Thailand, as part of a 1,100-Marine assault force. The Air Force also prepared aircraft for a possible strike/rescue mission.

When three days of intense negotiations between the two governments completely broke down, President Ford ordered a military rescue operation. At the time the rescue plan was initiated, U.S. intelligence personnel believed some or all of the Mayaguez crew had been taken back to Koh Tang Island. Intelligence personnel also estimated there were only 20 to 40 lightly armed Khmer troops on the island."

Instead of a light resistance, the troops ran into a large, heavily armed Cambodian force on the island, which also were dug into trenches and tunnels at the beachhead, according to the report. The American forces were hit hard and were unaware the crew already had been released by the Cambodians on another island. According to the synopsis, 18 Marines and Navy personnel were listed as missing in action during the battle, and their bodies declared unrecoverable.

It wasn't until 1995 the first of three teams from the Joint Task Force for Full Accounting was allowed onto Koh Tang Island to search for the remains of the 18 Americans who lost their lives during the battle. During excavations near the battle, human remains of nine of those Americans were found and subsequently identified, according to the website.

James Manning Jr. said the family was aware although some of the remains recovered were returned to Toronto in 2000, they also believed the possibility more remains might one day be positively identified as Ron Manning's.

"I always though there would be more remains found," he said. "We're not surprised.

"The stress on mom and dad is tremendous," continued James. "Mom is really under a lot of stress."

The parents have invited the public to both the gathering at Foster's and Union Cemetery.

"Toronto's son, H.N. Ronald J. Manning, home to rest for good," read a statement released by Donna and James Manning Sr. "A gathering of memories will be at the J.E. Foster's Funeral Home from noon to 2 p.m. Sunday with committal service immediately following at Toronto Union Cemetery accompanied by full military honors." Ron Manning's name also appears on the Vietnam War Memorial wall in Washington, D.C.


© Copyright 2012 The Herald-Star. All rights reserved. This material may not be published, broadcast, rewritten or redistributed.
Doc Manning article 27 April 2012
http://www.hsconnect.com/page/content.detail/id/573035/Vietnam-soldier-s-remains-coming-home.html?nav=5010
A Final Goodbye
April 30, 2012

By DAVE GOSSETT - Staff writer (dgossett@heraldstaronline.com) , The Herald-Star

TORONTO - The Little League teams, coaches and parents stopped their opening day ceremonies on Saturday for several minutes.

Ron Manning was coming home.

The remains of the Toronto native who had played Little League baseball on the same field years before were returned Saturday for a final memorial service.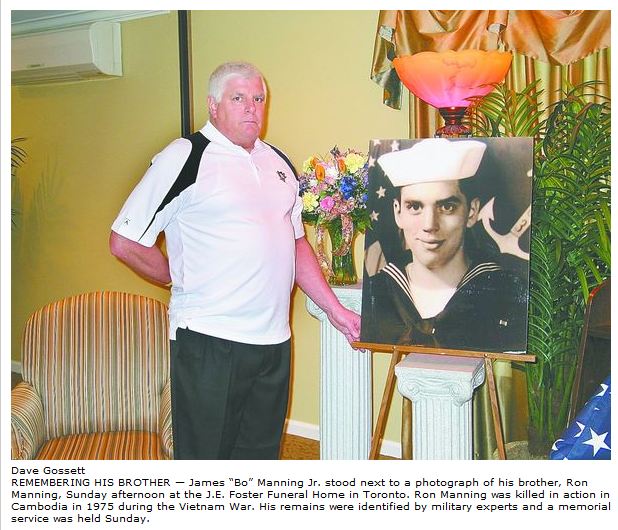 Manning was 19 years old when he enlisted in the Navy.

He was killed two years later during a military operation near Cambodia in 1975.

"This has been very tough on my parents. First we had a service when his remains were identified and returned in 2000. "But I always though there would be more remains found," James "Bo" Manning said as he waited to greet family and friends Sunday at the J.E. Foster Funeral Home.

"Ron was my big brother. And he was like all big brothers, looking after me and not letting me pick on my older sister. He was a great brother," James said quietly.

"I remember the first time the Navy recruiter came to our house and mom chased him out of the yard. She didn't want Ron enlisting. He was taking classes at that time at Jefferson Community College but didn't feel it was for him," remembered James.

"Ron wanted to be a doctor some day. That's why he was interested in the Navy corpsman position. Ironically, after he was killed, his California paramedic license he had been working on came through. His dream was to be a family doctor," said James.

"The Navy came on a Thursday evening and told my mom Ron was missing in action. I was a high school senior then and was helping at the sixth-grade camp the school used to have. My aunt came and got me and as soon as I came home I saw all the cars and I knew something was wrong," James recalled.

Ron Manning was one of nine children.

He was serving with a Marine unit on May 15, 1975, that had been assigned to a rescue mission on a small Cambodian island.

An unarmed crew of the Mayaguez ship had been captured days earlier by the Cambodians and was believed to be held captive on the Koh Tang island. But instead of finding the American captives, the Marines ran into a regiment-sized unit of Khmer Rouge troops and intense rocket fire.

The Sikorsky Super Jolly Green Giant carrying a Marine unit along with Ron Manning was hit near the shore of the island.

"The first time we waited for 25 years to be officially told Ron's remains had been identified. He had been listed as missing in action, and so we always held out hope. This time we waited another 12 years for the rest of his remains to be brought home. I'm just thankful mom and dad are still here. This will bring some final closure for us," noted James.

Among the mourners Sunday was Jefferson County Sheriff, Fred Abdalla who remembered Ron "as a nice kid in Toronto."

"I was in Vietnam and I heard he was going over. He was a super nice boy. And he is one of the true American heroes. He gave his life trying to help rescue other Americans. I'm glad the parents may finally find some peace. The war may have ended years ago but not for them. Now their son is finally home," said Abdalla.

"People like Ron Manning made sure we still have our freedom," said Abdalla.

Marine veteran Allen Bailey and his wife Tina traveled seven hours from their Maryland home to be at the memorial service.

"Ron Manning is one of my brothers. I was on the other side of the island that day. And since Ron was assigned to a Marine unit, he was a Marine. After going through what we went through that day I will never forget any of my brothers," Allen Bailey remarked.

"Ron was our doctor. I received word about this service and I knew I had to be here. All my brothers deserve respect. To come to Toronto and to see how beautiful this community is and to know Ron came from here is comforting. The people in Toronto have been so respectful," Bailey said.

"We called that mission a 14-hour war. It was something I couldn't talk about for 30 years. But I will always try to be at any service for any of my brothers until I am gone. My commander, Randy Austin, sent his deepest regrets and condolences to the family," added Bailey.

"Ron was a senior when I was a freshman at Toronto High School. I couldn't get away with anything because he kept an eye on me. But he was a great older brother. And I miss him every day," stated James.


© Copyright 2012 The Herald-Star. All rights reserved. This material may not be published, broadcast, rewritten or redistributed.
Doc Manning article 30 April 2012
http://www.heraldstaronline.com/page/content.detail/id/573115/A-final-goodbye.html?nav=5015